500 Hours 49 Days Yoga TTC
500 Hours 49 Days Yoga TTC

Our 49 Days 500 Hours Yoga TTC is a new concept in Yoga teacher training, designed to provide you with fundamental skills and confidence to teach yoga based on Hatha Yoga and Ashtanga Vinyasa lineages, in your way to become a RYT certified yoga instructor.
At Mathatitu Yoga Varkala, we understand the importance of balancing excellent teaching with affordable fees. As a Yoga Alliance accredited residential yoga school in Varkala, Kerala, India, we have the responsibility not only to offer our students the very best standard of learning, but also to keep our fees low,to be able to work towards our aim of making yoga classes accessible to all. Our belief in equality also means that our fees remain the same for both foreigners and Indians.Our main focus is on Hatha Yoga, but we believe in using the strengths from all styles of yoga, and so enable students to practice multi style yoga sessions and postures. We aim to train the students to enable them to teach all styles of yoga, promoting the unity that underpins our ideology.
Yoga Teacher Training Fees And Schedule

| From | To | Place | Shared Room (3 people) | Shared Room (2 people) | Private Room | Enquiry |
| --- | --- | --- | --- | --- | --- | --- |
| | | | | | | |
| | | | | | | |
| | | | | | | |
| | | | | | | |
| | | | | | | |
| | | | | | | |
| | | | | | | |
| | | | | | | |
| | | | | | | |
| | | | | | | |
| | | | | | | |
| | | | | | | |
| | | | | | | |
| | | | | | | |
| | | | | | | |
| | | | | | | |
| | | | | | | |
| | | | | | | |
* A/C room will cost € 200 extra
* A/C room with sea view will cost € 400 extra
Price include accommodation, food and excursion, **Extra charges for AC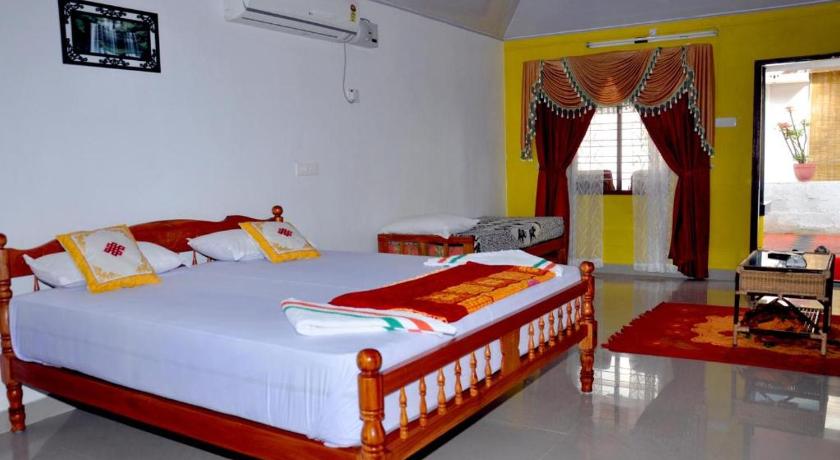 Each of our rooms in all our Resorts are spacious, fresh and comes with all essential amenities at your disposal. We have lounges and sit-out areas where you can share some quality time and chat with your fellow participants of the program.
We take well care of our environment and premises so much that we keep it clean and bright.  All the places like your yoga studios, dining area, and your rooms will be close to each other and right in front of or near to our resorts, you have the majestic beaches across India and Nepal, basking in the sun, in all its glory!
Shared Accommodation – It includes facilities for two persons. We provide two single beds, shower service, European toilets, reading lights, wardrobes, window curtains, clean and fresh bed sheets, pillow covers, 2 pillows and clean blankets. You will have access to free Wi-Fi and intercom.
Private Accommodation- It includes facilities for a single person. They can choose between a usual yet spacious private room accommodation or a Sea-View accommodation that offers a picturesque view of the Varkala Beach, while sitting in the balcony We provide a single bed, shower service, European toilet, reading lights, wardrobe, window curtains, clean and a fresh bed sheet, pillow cover, 1 pillow and a clean blanket. You will have access to free Wi-Fi and intercom. (Please note that the tariff would change for a sea-view accommodation).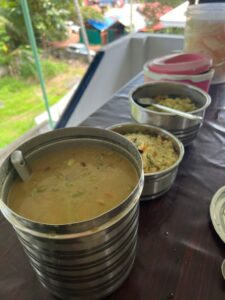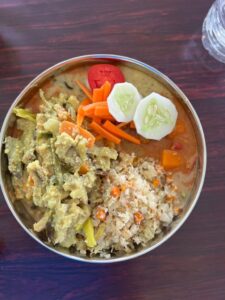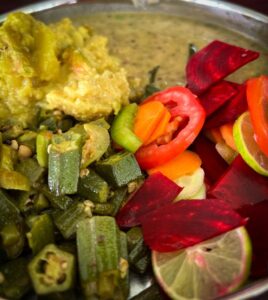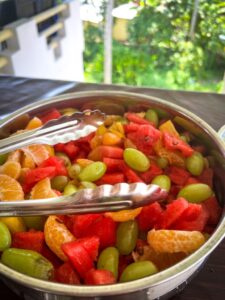 Balanced and nutritious diet forms the basis for the nourishment of mind and body. Mathatitu Yoga Ashram offers the purest vegetarian food, three times a day during your stay in our Ashram. Carefully cooked foods with traditional ingredients offering amazing healing properties are provided to you in correct proportion. We hire specially trained chefs for our yoga students and trainers.
Breakfast includes light and protein-rich foods such as porridge, bread-toast, salads, sprouts, nuts along with tea, coffee, and fresh fruit juices. The lunch features a traditional Indian Ayurvedic Thali with rice, chapati, lentils, vegetables, salads, and yogurt. The dinner is a combination of Ayurvedic food and cooked vegetables, raw salad, fruits, and herbal tea.
About Food:
Home cooked healthy organic meals 3 times a day and energy drinks.
Vegetarian, Gluten free and Vegan is also available.
Clean filtered water is available.
01 March, 2023 – 28 March, 2023
01 April, 2023 – 28 April, 2023
01 May, 2023 – 28 May, 2023
01 June, 2023 – 28 June, 2023
01 July, 2023 – 28 July, 2023
 By Airways
From Trivandrum International Airport, hire a taxi and reach our Ashram situated 45 KMs from the airport, which takes barely 1 hour 30 minutes one-way. You may ask the taxi driver to drop you at Keratheeram Beach Resort, situated at Beach Cliff, Varkala.
By Roadways
From Varkala railway station, it just takes 4 KMs to reach Mathatitu Yoga Ashram (situated in Keratheeram Beach Resort), Middle Cliff Beach, Varkala. Hire a tuk-tuk (rikshaw) at around Rs.120/- one way.
By Railways
From Varkala railway station, it just takes 4 KMs to reach Mathatitu Yoga Ashram (situated in Keratheeram Beach Resort), Middle Cliff Beach, Varkala. Hire a tuk-tuk (rikshaw) at around Rs.120/- one way.
Q: IS THE ASANA TRAINING INTENSIVE?
A: No, the asana training is not intensive and is designed to keep it as simple as possible. The theory course focuses on achieving a holistic knowledge of yoga and gaining the skills necessary to teach yoga to others with awareness and understanding.
Q: DO I NEED TO FOLLOW ANY ETHICAL GUIDELINES?
A: Yes, some very simple guidelines are there to help you create a sattvic (yogic) environment, useful to learn which all trainees need to adhere to. Trainees in residence are not allowed to consume drugs, alcohol, and cigarette. They are also asked to maintain silence.
Q: HOW MUCH TIME SHOULD I EXPECT TO SPEND ON MY OWN ASANA PRACTICE?
A: You are expected to have minimum daily practice. 30 minutes of asana, 10 minutes of Pranayama and 20 minutes of meditation is compulsory.
Q: WILL I GET AN OPPORTUNITY TO TAKE CLASSES WHILE TRAINING?
A: Yes indeed you would get the golden opportunity to teach your fellow trainees under the supervision of a senior teacher.
Q: DO I NEED ANY KIND OF EXPERTISE TO ENROLL IN THE YOGA TEACHER TRAINING COURSE?
A: No, there is no special expertise that you require.
In fact, anyone irrespective of their age can join this yoga training program. Flexibility and strength are enhanced by your practice. The presence and guidance of a Master will deepen your yoga asana practice and awareness level. If you are into yoga training from quite some time this course would be an added advantage for you. Your awareness at the mental and physical level would be taken to a new high and it would eventually enhance your Yoga teaching skills for future.

Apply/Enquire about our yoga courses right now for free!